When tomatoes are in abundance, turn to high acid wines like our September feature wine – the 2010 Dry Riesling to match. Quality of the ingredients used is what makes this dish a showstopper. Only make this dish when you have the ripest of tomatoes and the crispest of greens and always use the best cheese, olive oil, and salt.  In honour of the tomato we are sharing the Deconstructed BLT recipe from our first cook book, The Good Book. This is one of our all-time favourite signature dishes from Chef Patrick (cheffer)!
Deconstructed "BLT"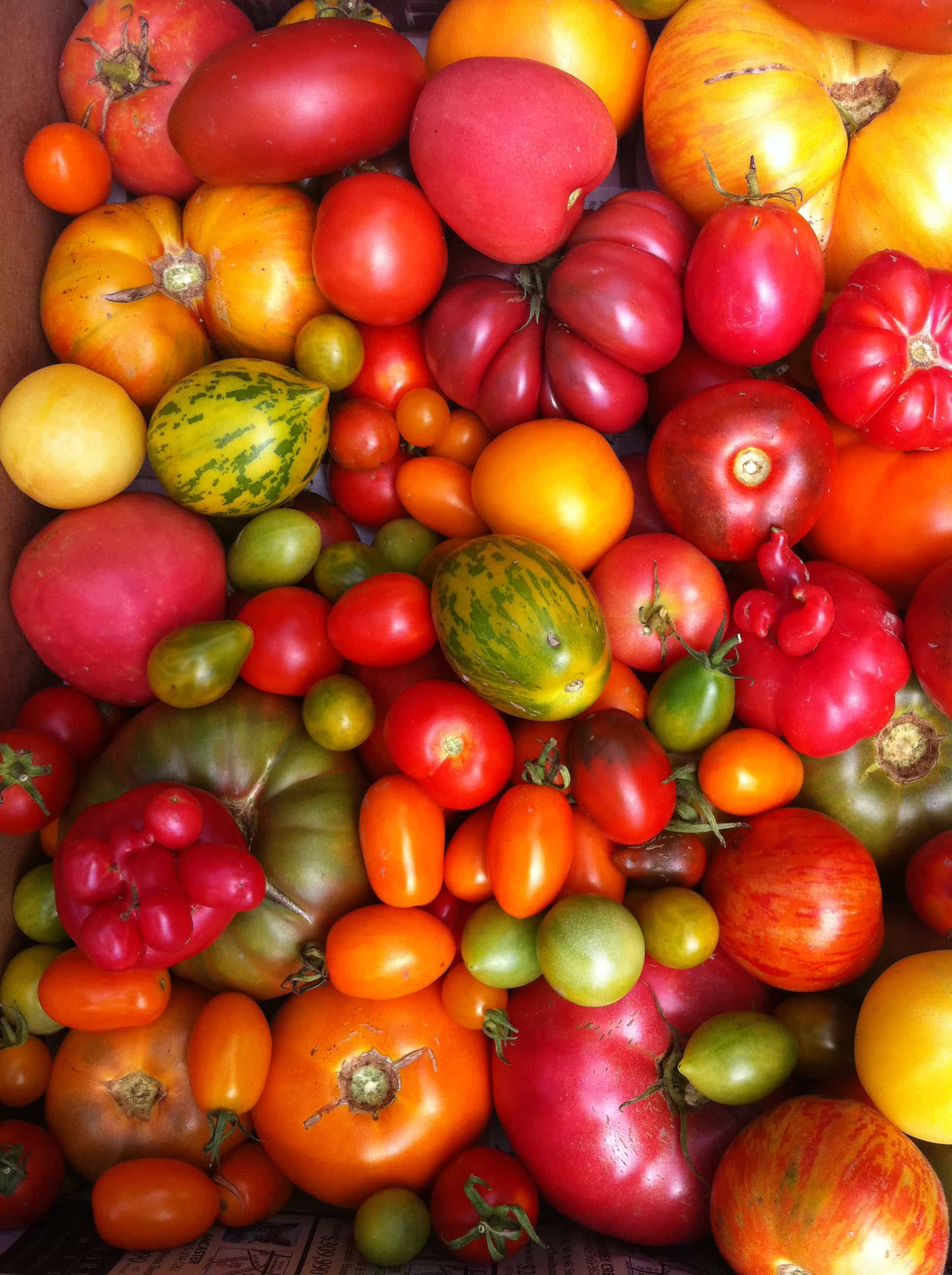 6 thick slices double smoked bacon
1 Tbsp chopped fresh basil
6 slices baguette or crusty bread
1 lb baby arugula (or spinach)
2 large "beefsteak" tomatoes
2 pints assorted small heirloom tomatoes
6 leaves fresh basil, finely chopped (for vinaigrette)
3 Tbsp extra virgin olive oil
1 wedge Parmigiano-Reggiano cheese
Halve and quarter the heirloom tomatoes. Toss in a bowl with healthy pinch of salt and set aside. The salt will draw out the tomato juices.
In a small bowl mix together the mayonnaise and chopped basil and set aside.
Preheat the grill on a medium setting. Grill the bacon for about 2 minutes per side, turning once.
Slice the beefsteak tomatoes into ½ inch slices.
Drain the juice from the chopped tomatoes, reserving the juices. Whisk in the olive oil. Add the finely chopped basil and season with salt & pepper. Place your greens in a bowl and toss with your tomato dressing.
Brush the bread slices lightly with some oil, season with salt and grill until "toasted".
"Smear" one Tablespoon of basil mayonnaise in a corner of a plate. On top of the "smear", place a slice of grilled bacon and top with a small tuft of dressed greens. Place the "beefsteak" slices next to the bacon and top with the chopped tomato mixture. Using a vegetable peeler, shave (or if preferred, grate) some fresh cheese on top. Serve with a piece of the grilled bread.
Buon appetito!