It's All Good
Since 1998, when we opened our Niagara farm, home and hearts to our guests, The Good Earth has been a haven for discerning food and wine lovers and an oasis for the senses. Our gardens, orchards and vineyards provide a spectacular backdrop for wine and culinary experiences that reflect all the good things the earth has to offer.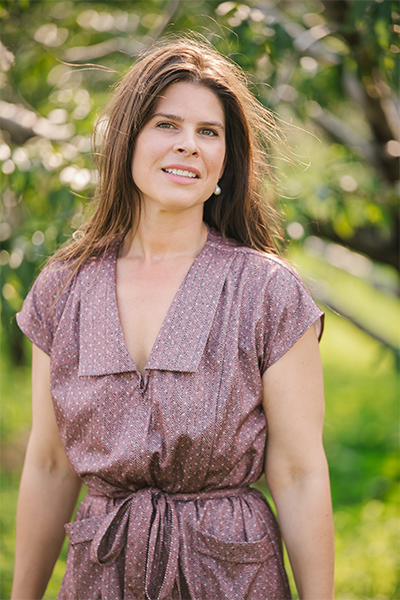 Christine Flynn
Proprietor
With over 20 years of experience in hospitality, Christine is known for her energy, relentless work ethic and creative drive.
A celebrated chef and writer, Christine's book "A Generous Meal: Modern Recipes for Dinner" is a national bestseller. Her work has also appeared in The New York Times, Wired and Bon Appètit, among others.
Christine has an impressive pedigree and has worked in restaurants in Nantucket, New York, Burgundy and Napa, among others. Although originally from Canada's East Coast, Christine has strong ties to the Niagara region, and after a fateful lunch in 2013 at the Good Earth, chose to make Niagara her family's forever home.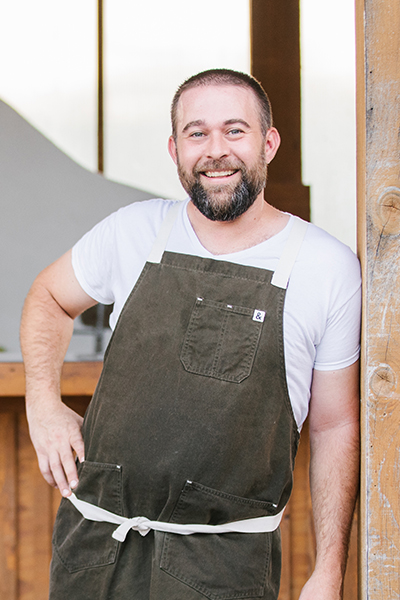 Andrew Thorne
Executive Chef
Born and raised in Niagara, Andrew has always had a keen interest in the food and wine scene. As a young chef, he worked in some of the area's finest kitchens – Peller Estates Winery Restaurant, Trius Winery and Redstone – where he developed his strong work ethic and passion for fine cuisine.
Andrew has a gift for making food which is flavourful, beautiful and showcases the best in regional produce. Andrew is a true family man and loves to share the good things in life with those around him.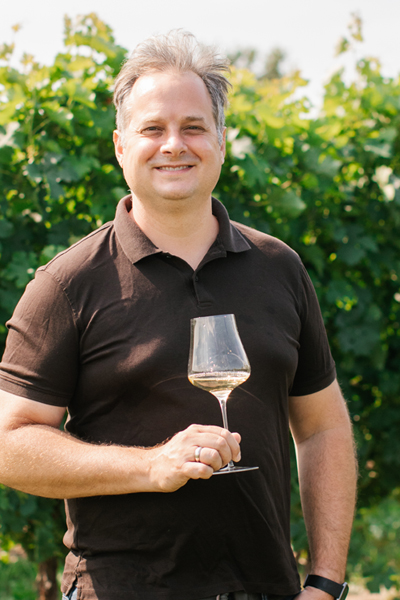 Ilya Senchuk
Winemaker
Ilya is one of Canada's top winemakers and has worked in some of Niagara's top wineries. In 2013, Ilya and wife Nadia followed their dream and opened Leaning Post Wines. 
Ilya along with Assistant Winemaker Anais Ferris craft the Good Earth Wines and have built an impressive selection of wines which are approachable, delicious and most importantly, fun to drink.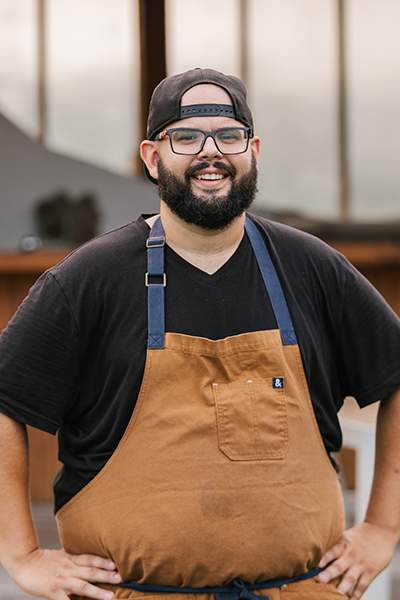 Mike Gareau
Sous Chef
A veteran of the industry, Mike began working in kitchens at the age of 13 in his hometown of Brandon, Manitoba. With a career spanning over two decades, Mike has done everything from cook for the Queen of England to compete in some of the most prestigious culinary competitions in North America.
In 2008, Mike moved to Niagara to further explore the relationship between food and wine. He's worked at several premier wineries in the region. He joined the Good Earth team in 2019 and with his good sense, kindness and calm demeanor, remains an integral part of our success.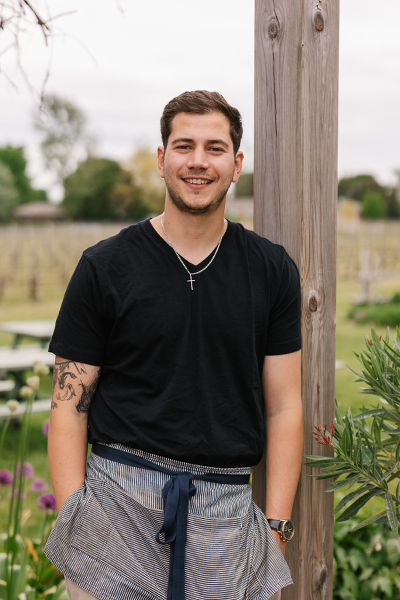 Harlie Scapillato
General Manager
A lifelong native of Niagara, Ontario, Harlie is committed to offering the best in service and hospitality in the region. Boasting an impressive resumé with experience throughout wine country, Harlie has been an integral part of The Good Earth since 2020. His ability to connect with guests, elevate the everyday and organize effectively are all critical merits that he demonstrates on a daily basis through low-key, high-impact leadership.
Frequently Asked Questions
Do we need a reservation?
This season, with reduced seating, reservations must be made through OpenTable.  In order to meet social distancing recommendations, we are limiting groups to no more than 6 individuals at a table.  We apologize for the inconvenience.
Are you organic?
The property is not organic. The name was chosen to celebrate the notion that everything good comes from the earth.
Do you have vegan or gluten-free options?
We have a talented team of chefs and can accommodate most dietary preferences with notice. Our menu always includes gluten-free and vegan options, and our servers can also guide you in choosing a dish to suit your needs.
What is the dress code?
Come as you are. Please dress for the weather remembering that Mother Nature is our air conditioner on the patio!
Do you offer wine tours?
Our 19+ guests are welcome to join us for a tasting either in the Bistro or the Tasting Room. For a more extensive tour, we recommend our tourism partners Niagara Vintage Wine Tours and Experience Niagara.
Do you host private events such as corporate events, rehearsal parties, and weddings?
We host a limited number of private events on our property. For all event inquiries, please email office@goodearthfoodandwine.com. We are not taking any additional wedding bookings for the 2022 season.
Do you accept walk-ins?
We do our best to accommodate walk-ins however during peak season we may not be able to seat you at the bistro without a reservation. Please book through OpenTable. We will have alternative seating and limited menus available at both the Pizza Pavillion and Tasting Room throughout the summer. 
How would you describe your restaurant style?
We celebrate the seasonality of Niagara. Our focus on Niagara Region Cuisine with an emphasis on local sourcing. 
Do you have outdoor seating? Is there shade?
Much of our seating is outdoors on our beautiful patio. For that reason we STRONGLY advise our guests to wear sunscreen, hats and dress for the temperature. While we have covered areas, we cannot guarantee you a shady spot. There are also times when we cannot use our patio umbrellas because conditions make it unsafe for patrons and staff.
Do you have a full beverage offering?
We are a craft winery and make all our wine on our property. We are pleased to offer all of our current releases in the bistro. Wine can be enjoyed by the glass or by the bottle. Unfinished wine can be resealed and taken home for enjoyment later. We also offer craft beer and a broad range of non-alcoholic beverages. If you wish to purchase wines for your cellar, our servers will be happy to organize your order for you.
Where can I purchase your wine?
We offer our wine in our retail store adjacent to the bistro.  You are also able to purchase our current portfolio of wines securely on-line.  We have a wonderful Wine Club with a host of membership benefits that ships quarterly with no commitment and no hidden fees. We do not sell through the LCBO.
What's the best way to find out what is going on?
We have a number of enjoyable, affordable and unique offerings taking place throughout the year. To stay on top of our news, please sign up for our monthly e-newsletter below or follow us on Instagram!
Are you dog-friendly?
The Good Earth welcomes well-behaved dogs on a leash throughout the summer. We do not allow dogs indoors at any time, and we reserve the right to ask any loud or aggressive dogs to leave. 
Why can't we sit outside sometimes on a sunny day?
At times we have very strong winds that make setting our tables outdoors a hazard.  We love to have guests outdoors but we have to be mindful of flying glassware and the safety of all our guests and team members. 
Are you child friendly?
The Good Earth is a family-run business and we welcome families with children of all ages. We are a working farm and winery, however, and we do ask that children be supervised at all times. We also ask that children keep their shoes on while on the property particularly on the lawn as there can be sharp objects.