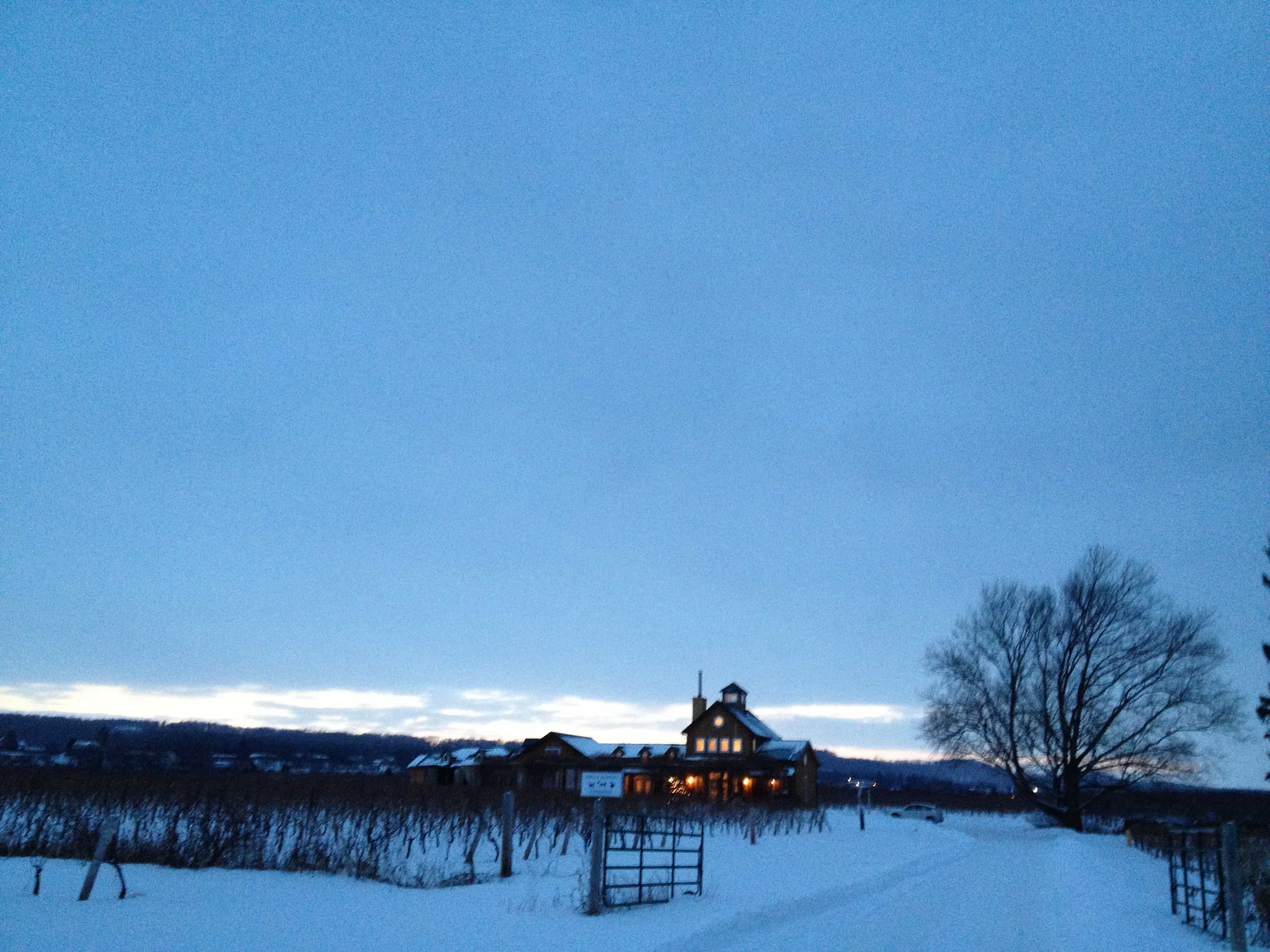 I don't ski, I don't skate, I don't like hockey, and I don't actually own a toque. But there are times when I feel like The Last Canadian Standing because man, do I love Winter. I know I'm in the minority (ESPECIALLY here at The Good Earth – I've never worked with such a bunch of summer-worshippers), but honestly, there's so much to love about the coldest, darkest, coziest and most romantic months of the year.
First of all, Winter is beautiful. All the trees and bushes are bare, so you can actually see the intricacy of their architecture. The gigantic sycamore at the edge of the Good Earth parking lot is unbearably lovely at this time of year, its branches and ridiculously decorative hanging seed pods silhouetted against the vast grey skies. Take a look the next time you visit and you'll see what I mean.
When we're lucky enough to have snow, all that delicious white stuff creates a startling backdrop, throwing everything, especially our sweet vineyard, into sharp relief. The starkness can be breathtaking. And the snow muffles sound, which I love – I love the respite from sound that you get in Winter, when everything's asleep. And I love cold. I'm perpetually overheated, so the falling mercury makes me happy, happy, happy! Finally, I can stop being the schvitziest girl at Good Earth. The best is when it's so cold that your nostrils stick together when you inhale, you know the cold I mean? Heavenly.
A good, sharp, and above all COLD, Winter day, when the snow stops falling and lies, like my favourite English carol says, "deep and crisp and even", is the cleanest thing imaginable.
Secondly, Winter is comfy. The darkness comes early, putting you in a home-time mood at 4 pm every day, ready to snuggle up on the couch in woolly layers. And Canadians just look better in Winter. I'd much rather see my fellow Canucks layered to the hilt and toqued up than half-naked as they are in our increasingly hot summers.
Thirdly, and most importantly, Winter is when we get to eat hearty, filling, and hibernation-friendly fattening foods. Roasts. Stews. Root vegetables. Starches. Gravy. Meat. Sauces. Pie. Cassoulet. Casserole. Cake. YES. As Margaret Atwood notes in her poem February, winter is "Time to eat fat and watch hockey." While I admit I'm not that much of a hockey fan, I will happily eat fat until the first crocus blooms in Spring.
You have to make friends with Winter, people. Embrace it. Celebrate it. Find your inner Canadian kid and enjoy the cold weather like you did when you were little. Buy yourself a snowsuit and mittens with strings, if that's what it takes. And rejoice in the excuse to eat and drink delicious things like The Good Earth's Potato Bacon Chowder and our fabulous new 2010 Chardonnay. Rich, creamy and delicious, the chowder will warm you and your friends or family inside and out, while the heavenly wine works its magic and makes you care about the cold just a little less.
"Stick to your Ribs" Potato & Bacon Chowder (from The Good Book)

1 red onion, diced
3 celery stalks, diced
1 leek, diced (white and light green parts only)
3 carrots, peeled and diced
6 slices bacon
2 lbs mini white or red creamer potatoes, cut in wedges
4 Cups chicken stock (water can be substituted), cold
¼ cup butter
1/3 Cup all purpose flour
1 Tbsp picked fresh thyme
1 bay leaf
6 dashes Tobasco or other hot sauce
1 Tbsp Worchestershire Sauce
3 Cups milk
1 Cups 35% cream
3 green onions (optional)
1 crusty baguette (optional)
salt & pepper to taste
In a soup pot, melt the butter over low heat. Add the diced onion, leeks, celery, carrots and bacon. Cover and cook for about 10 minutes, until softened but not coloured.
In another pot, cover the potatoes with water and bring to a simmer. Cook until fork tender – soft, but not overdone. Strain.
Add the flour to the vegetable and bacon pot and cook for 3 minutes, stirring constantly. Gradually add the cold chicken stock, stirring constantly. Add the thyme, bay leaf, Tabasco, and Worchesterhire sauces. Simmer for 15 – 20 minutes.
Add the milk, cream, and cooked potatoes and bring up to serving temperature.
Serve with toasted baguette and a sprinkle of green onions.
This recipe yields 6 – 8 hearty portions.
Never fear, summer-lovers, warm weather will be here soon enough. For now, celebrate all the good things about the coldest months of the year.